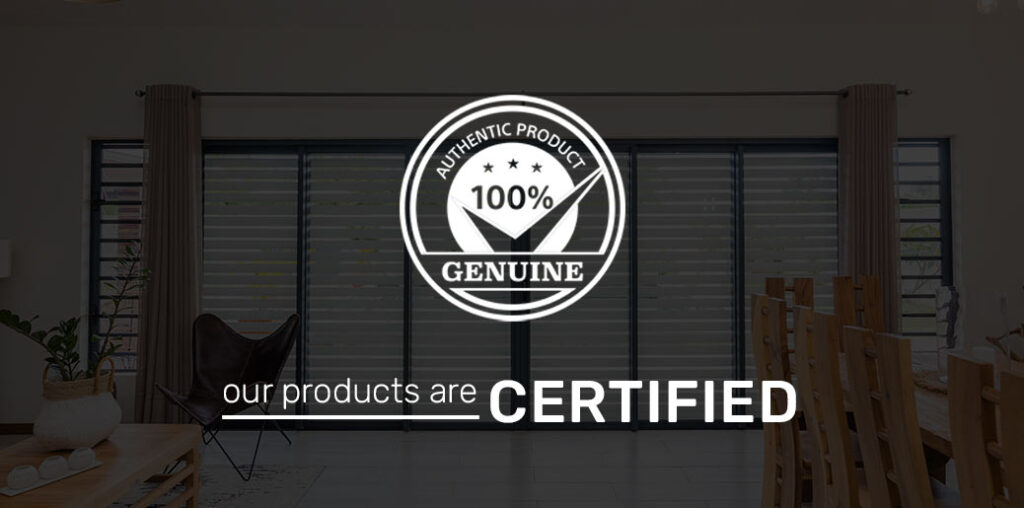 For almost a decade now, JMD International has been at the heart of construction projects as trusted manufacturer & supplier of aluminium profiles and hardware. There has been a dynamic evolution in the range of products and services offered by the company. JMD is known to create cutting edge aluminium openings to meet the requirement of the market without compromising with quality. Having a high reputation on the market for efficiency, quality and aesthetic, JMD's products are unfortunately being copied and these products are of poor quality which you should be aware of.
Important things to know:
How to know if you are buying genuine JMD: (certificates, guarantee, call and check)
What to do in case your product is not genuine.
Preventive measures.
1. How to know if your JMD's openings are genuine?
Aluminium openings in Mauritius are of various brands and quality. JMD started by supplying the very well-known Gamme Bourbon. Partnered with JMD SAS (JMD Reunion) when it started off, many IRS and commercial projects were completed using the very product. With strategic evolution and the dynamics of the market, we have totally stopped the supply of Gamme Bourbon. As of date the is NO SUPPLY OF GAMME BOURBON I MAURITIUS. So, how do you know if your JMD Opening are genuine?
If you buy Gamme Bourbon in Mauritius in 2022, well, it is not genuine as there is no more Gamme Bourbon on the local market.
JMD Aluminium openings come with guarantee certificates.
If NOT GIVEN guarantee certificate, request for one!
Guarantee on powder coated profiles are of 10 years. NO LESS NO MORE.
2. Steps to be taken in case your product is not genuine.
Please note all products delivered by JMD International are genuine.
If your re-seller clearly told you it is JMD Aluminium (SLINE) and it is not genuine or Gamme Bourbon, do revert back to them. Please do let us know if you have been given counterfeit products.
You can report the matter to the police or take legal actions so that you may be compensated where applicable.
3. Preventive measures to avoid any counterfeit products :
You can always call us before buying your aluminium openings so we can advise on genuineness of product.
You may always check with us who our authorised re-sellers are.
Do not forget to ask how many years product is guaranteed for.
Remember, JMD International does not supply Bourbon Aluminium.